BIG NEWS!!!
Our newest CD "Cheers to 10 Years" is HERE!!!
We debuted it on September 30th at Oktoberfest in Fredericksburg, TX. This is second CD for us to debut there, and it was a great time as usual. Please go our merchandise tab to purchase your copy today!
Also, we are in the process of having this new album available digitally on iTunes and other services very soon. We will make an announcement when we have more information.
If you'd like to take a look of the layout before buying, just click on the link below to check it out. We are extremely happy with the music we've made, and hope you enjoy it as well!
-ECB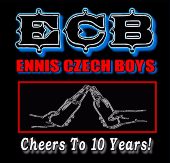 We have the extreme pleasure of playing with the legendary Asleep at the Wheel for the Texas Dance Hall Preservation dance in La Grange. For tickets to this amazing dance, please click on the link below. Hope to see you there!
Follow us on Facebook by clicking the "Like" button below!